There are few things in IT that are simultaneously ultra-important and as neglected as backup and disaster recovery. Many organizations don't put enough prioritization into their backup/DR strategy and either do not review it regularly or just plain don't have one. In this article, we answer your questions about backup & disaster recovery to help you protect your data more securely.
The questions gathered below were generated from a webinar in which I teamed up with the author of The Backup Bible, Eric Siron, to explain the key considerations any organization will need to ask itself to put together a strong and reliable backup and disaster recovery strategy. If you didn't attend the session, you can watch the recording of that webinar right now! If you already have a plan in place, we also cover the practical steps you can take to improve your current setup and be up to date with the latest advances.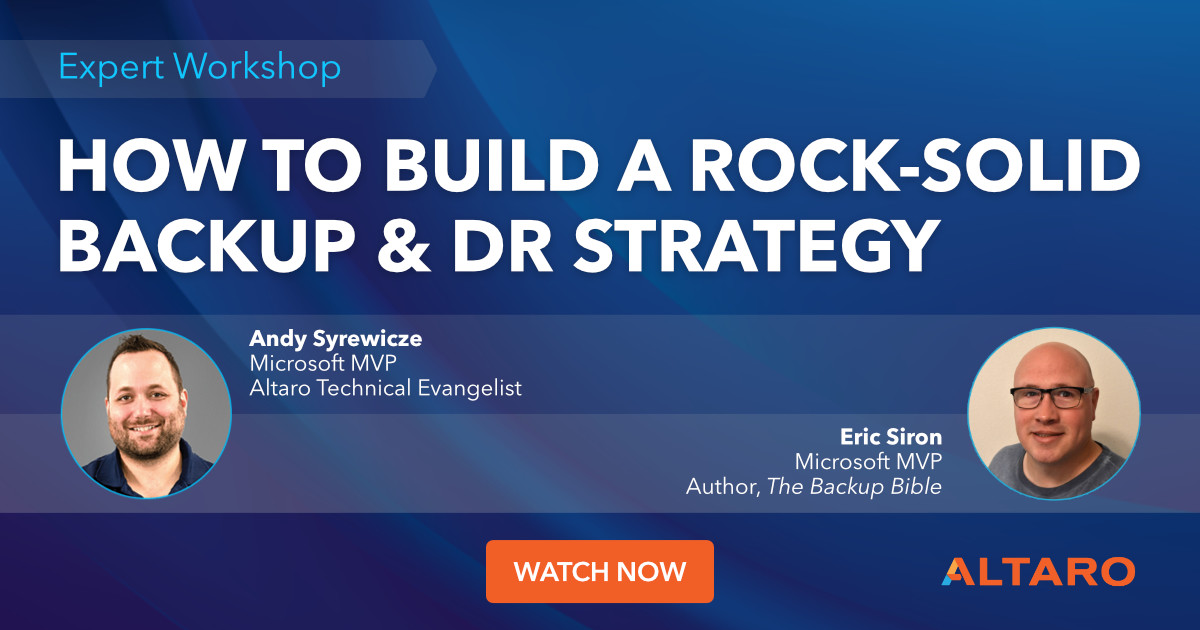 NOTE: If you asked a question during the webinar you don't see it in the list below, we did consolidate some of the similar questions so we don't repeat ourselves. Additionally, if you think of any additional follow-up questions you didn't get the chance to ask or you just think of now, be sure to put them in the comments section below.
Common Backup and Disaster Recovery Questions
Q. What kind of training do you recommend for intermediate level internal IT staff regarding backup and DR?

A. I would recommend you have them read the Altaro Backup Bible that we referenced throughout the webinar. It is designed with all skill levels in mind and is vendor agnostic by design.

Q. Is Cloud Backup Ransomware Free

A. I don't believe that there is any system anyway cloud-based or otherwise that is ransomware free at this point in time. Cloud backup may be harder to infect with ransomware due to the semi-disconnected nature of cloud technology, but any media that is online and accessible is a potential target.

Q. What are the best practices for protecting backups from ransomware?

A. We have an ebook and on-demand webinar covering this topic at length

Q. Do you think it is correct to think of an SME with many departments as a "Group of SMBs" and so approach each department backup/DR plan as if it was an SMB?

A. Great question and in general this would be a good approach. However, each organization is different and your information gathering stage of your backup/DR plan will help you determine if approaching your organization in this way will be viable or not.

Q. What is the most effective way to protect physical servers instead of VMs?

A. You'll want to use a product that supports providing backup services for physical devices such as Altaro Physical Server Backup.

Q. Regarding Offsites and Air-Gaps, when we switch to cloud storage we have no ability to periodically commit to portable disk and thus have 2 copies of offsite data?

A. In generalities, yes, but there are ways around this issue. Some cloud vendors are starting to support immutable storage, which would help address this in terms of ransomware. Additionally, your cloud storage vendor may have mechanisms in place to allow additional copies to be moved elsewhere at the storage level. Finally using a backup provider that allows offsite copies to more than one more offsite location would help address this as well.

Q. What is the possibility of making two backups of a VM locally to two different locations (Backup Servers) at time of backup? Any problems with this? Offsite is not an option at this time.

A. If your backup application supports multiple storage targets, that's likely the cleanest option, however, if you have a solution that does not support multiple targets, then storage replication could be a viable option or a simple copy job could work ASSUMING you get the timing right. You don't want the copy job to the secondary location running as the backup is happening. Then you run the risk of the secondary local backup being invalid.

Q.
More and more clients are requesting long term archiving of backups in the cloud. O365 covers this already, but how would you approach this for Hyper-V/VMware due to storage costs?

A. Leveraging a backup vendor that natively supports object-based storage with a cloud provider like Azure Blob Storage. This type of storage is cheap and effective for long term data retention.

Q. Is it best practice to have different offsite retention than onsite?

A. There is no direct answer or best practice for this. The needs of your organization will dictate this.

Q. Is a physical backup server or a virtual backup server better?

A. This depends on the backup solution and storage hardware you have in play. If you want to leverage SAN or Network storage you'll likely be using a VM. However, if you have disks in a local server, it may make more sense to run your backup software on a physical server instead.

Q. What kind of retention policy would you apply to a 2-hour RTO/RPO?

A. One typically does not dictate the other. Both your retention policies and RTO/RPOs will be dictated individually based on organization need.

Q. How do you explain to clients/managers that they need to protect Office 365 data when the assumption is that Microsoft takes care of data protection?

A. To start, you are correct in that it's an assumption that Microsoft handles data protection. We actually have a document that addresses this concern here that may help.

Altaro Product Questions
Q. Is the Altaro API read-only, or can you make configuration changes through it?

A. You can actually make modifications with it as well! Detailed information on the API can be found here!

Q. How powerful does the backup host need to be in order to run boot-from-backup?

A. Based on your planning you'll want a hypervisor in your environment to have enough free resources to run at least a couple of VMs in this manner. I would base this off your application set. If you have an application that's deployment spans 2 different servers, plan on having those free resources available at all times.

Q. Can Altaro be leveraged in a hybrid cloud deployment?

A. You can certainly use Altaro VM backup to protect the on-premises VMs and use an Azure storage account as an offsite backup target. Additionally, you could recover those workloads into a nested Hyper-V instance in Azure if desired. Additionally, you have Altaro Office 365 Backup available as well for the protection of your Office 365 Data

Q. How good is Altaro VM Backup when dealing with sensitive apps such as SQL, Active Directory, and Exchange?

A. Altaro VM Backup makes full use of Volume Shadow Copy so we can fully protect SQL, AD, and Exchange workloads. We can do full and granular recoveries of Exchange. Paired with the AD Recycle Bin we can facilitate full protection of AD. In terms of SQL, beings we use VSS, we can fit into any recovery strategy with SQL when paired with a SQL Maintenance plan.

Q. Will Altaro Backup Products allow me to do file-level backups of my file server?

A. Yes

Q. Can Altaro Products Leverage Tape as a Storage Target?

A. We do not support tape storage at this point in time.

Q. What are the dependencies for boot from backup?

A. More information on boot from backup can be found here.

Q. Is Nutanix AHV Supported?

A. Not at this time

Q. Can you use the boot from backup feature in Altaro VM Backup to recovery files granularly from a Linux VM?

A. Yes you can! Simply boot the machine with boot from backup, and give it a new IP/Hostname prior to connecting it to the network, or put it on a private/internal vSwitch and conduct the file retrieval from the host system.

Q. Does Altaro VM Backup have support for multiple offsite copies with different schedules?

A. We can backup to multiple offsite locations, however, the copy to the second location is completed sequentially and cannot be scheduled separately.

Q. After the boot from backup process restore has complete how long will the restored server be offline to roll in the changes captured during the restore?

A. Tough to put an actual number on this, but the answer will depend on how much data changed throughout the restoration period and the speed of your disks.

Q. Altaro is just the software correct?

A. Correct, you provide the hardware you want to use for the solution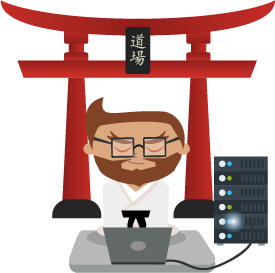 Not a DOJO Member yet?
Join thousands of other IT pros and receive a weekly roundup email with the latest content & updates!