Another Month of 2016 is gone and that means it's time for another edition of our Hot VMware Topics! For those new readers, this series focuses on useful links, howtos, and cool stuff from the previous month from the world of VMware! With that said, beings VMworld in Las Vegas was the talk of the town last month, we've got quite a bit of stuff to go through. Let's get Started!
Author: James Nunns
Again, as VMworld happened last month there is a bunch of stuff to talk about, but if you're just looking for a quick and dirty recap of some of the big announcements, this article from the Computer Business Review fits the bill. This post will fill you in on new stuff in Containers, Flash Storage from Tegile, and also talks a bit about OpenStack. Lots to be read here!
Author: VMware Blog
If you're looking for a bit more than a recap, then this is the post for you. The VMware Blogs team has put together a great collection of several videos from VMworld and has organized them within a single location. If you're looking for something to watch over the weekend, or during your lunch hours, this is certainly a good place to start, and it's loaded with information.
Author: Dan Kusnetzky
A lot of what was discuss at VMworld centered around the private, hybrid, and public cloud, and as such, VMware had some big announcements and discussion in that area. VMware announced what they are calling their "Cross Cloud Architecture", which is supposed to make the management of multiple cloud platforms easier and more streamlined, by incorporating public clouds like Azure and AWS into the management tool. It'll be interesting to see how this plays out, and as such I've included this article by Dan Kusnetzky as I found the analysis and thought process quite interesting and to the point.
Author: Virten.net
It's official. vSphere 5.0 and 5.1 are at the end of their road. if you're still running one of these two versions, It's strongly recommended that you upgrade to maintain supportability and functionality. Florian does a great job in this article of filling in the details regarding the end of support status and provides some additional tools to stay prepared in the future.
Author: Virten.net
I'm a huge fan and advocate of the vCenter Server Appliance (VCSA) in vSphere 6 and above, simply because VMware has removed all roadblocks for using it. it used to be that the VCSA couldn't do things that the full blown vCenter install on a Windows Server could. Those limitations have now been removed. However, with the appliance being Linux based, sometimes routine maintenance tasks can be a bit more work if you're not familiar with Linux. One such tasks could be adding disk space. This howto from Virten.net will walk you through adding disk space to an external PSC in vSphere 6. It's a good howto to have in your back pocket when the time comes.
Author: Rawlinson Rivera
I always get excited for VSAN Benchmarks and performance information. VSAN is one of those hyperconvergence technologies that you just have to see it in action to become a believer. As IT pros, we've become so accustomed over the year to what we "think" storage should look like with traditional SAN setups and what not, that many are afraid to look at different solutions. So, with that in mind, I always like to post performance stories and real life accounts whenever possible. Rawlinson, does a good job of providing the background on this and then providing the metric info. This is a good one to check out if your still on the non-believing side.
Wrap-Up
Well that wraps up our list of links for this month! Hopefully you found them useful and entertaining, and I'm guessing with the VMworld videos included, you'll have plenty to review until next month's post. As always, if you found a cool link or useful howto that you think should be a part of this list, feel free to include it in the comments section below this article.
Thanks for reading!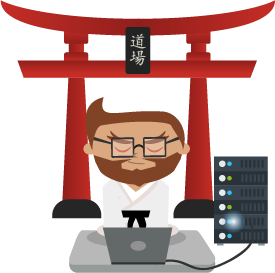 Not a DOJO Member yet?
Join thousands of other IT pros and receive a weekly roundup email with the latest content & updates!