The Importance of The Power Platform with April Dunnam
We've got Microsoft's very own April Dunnam on the show to talk to us about the Power Platform! If you're un-aware, the Power Platform is a component of the Microsoft 365 suite of tools and is often overlooked by many organizations. The fact is, the Power Platform can provide a number of benefits to any organization, by enabling key stakeholder in the business and knowledge workers to create apps, automations, bots, and reports in a low-code/no-code fashion.
NOTE: If you're wondering what the term low-code/no-code means, it simply means that in order to achieve the outcomes the Power Platform is designed for, little to no coding experience is required by the user.
That all said, some common questions that come up in IT Pro circles when talking about this product, is what does the Power Platform really help me with on a day-to-day basis, and how do I manage it effectively so that it doesn't spawl? How do I secure the usage of data inside the solution?
It's true, the Power Platform is often overlooked by System Admins, for a number of reasons. Mainly, they see it as another thing that needs to be managed and maintained and simply don't want to. On top of that users have to access data, and APIs…etc, which is another area of the business the administrator has to secure and manage. Worry not though, Microsoft has done a fantastic job of making sure the needed tools, documentation and governance are in place to allow IT Pros to neatly put the Power Platform into production while enabling their end-users to achieve more!
In this episode we talk through a number of these concerns from the viewpoint of the system administrators. April provides a number of resources and strategies to help you get your organization started with the Power Platform.
We hope you enjoy!
In this episode on Microsoft Power Platform
How could the Power Platform fit into an existing organization? – 2:50
What are the different components of the Power Platform? – 6:00
What is the value of the Power Platform for system administrators? – 14:03
What is the value of the Power Platform for my End-Users? – 18:43
How do system administrators manage and secure the Power Platform effectively? – 22:16
Resources for helping my organization get started with Power Platform – 26:40
Episode Quotes
I just see it as another tool in the tool belt for getting to the end goal and building solutions
We currently have a pro-development gap
(To the CFO) – You don't want me doing accounting, that's all you!
The artist formerly known as Microsoft Flow
There are a lot of features here that are making me as a system admin perk my ears up
There are still people using paper forms!
The Power Platform can have access to over 600 connectors!
Frequently Asked Questions about Microsoft Power Platform
Does having a traditional coding background help with learning the power platform?
While it does help in some cases being able to see problems from the traditional coding background, it is by no means a requirement to solve problems using a low-code/no-code approach.
What is fusion development?
Fusion Development is the concept of bringing various stake-holders of varying backgrounds within a business together with the goal of solving a business problem.
What is Power BI?
Power BI is a business intelligence tool that allows organizations to retrieve, disseminate and display organizational data in a meaningful way.
What are Power Apps?
Power Apps are low-code/no-code applications and tools that enable your knowledge workers and stakeholders within your organization to create applications to help solve business processes.
What is Power Automate? 
Power Automate helps enable robotic process automation within a business by helping to connect and automate business and software processes. A example competitor for this product would be Zapier.
What are Virtual Agents?
Virtual agents enable the functionality needed to use low-code/no-code concepts to create automated chat bots.
Resources for the Microsoft Power Platform
Have a question? Want to feedback? Get in touch!
Listen to The SysAdmin DOJO Podcast on your favorite platform. Let us know what you think of it (or how we can improve) by rating or leaving a review!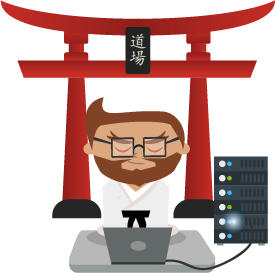 Not a DOJO Member yet?
Join thousands of other IT pros and receive a weekly roundup email with the latest content & updates!