Why is Licensing in Microsoft 365 so Complicated?
We've got Paul Schnackenburg back to talk about licensing in Microsoft 365. To those that have even glanced at the licensing sections of the Microsoft 365 admin portal it comes as no surprise to find out that licensing in Microsoft 365 is horribly complex. We discuss how we ended up here, what different options are there for licensing in Microsoft 365, frontline workers, and most importantly, which license to choose!
For example, did you know that you can mix and match licenses in Microsoft 365? This comes as a revelation to many listeners as it's not clearly defined anywhere what the best practices are. If I had 200 manufacturing floor workers and 20 mobile sales users, I could license the manufacturing floor workers with F-series licenses and the sales users with M365 E3 licenses. This allows IT Pros to best fit the needed features of the Microsoft 365 suite with the unique needs of different workers within the organization.
One other interesting discussion point worth mentioning is the fact that you can purchase higher tier licenses for the added features, but you get absolutely no value from them whatsoever unless you upskill your admins, and staff, on how to leverage those features. To make the most of any service in Microsoft 365, an organization has to make a conscious decision to be continuously innovating and implementing new features from the solution stack as they're released.
We expand on both points in the episode, so take a listen or watch if you want more info!
In this episode on Microsoft 365 licensing
What is the difference between the business packages and the enterprise packages in Microsoft 365? – 4:46
What are the differences between the E3 and E5 licensing levels in Microsoft 365? – 9:05
What is Enterprise Mobility and Security (EMS) in Microsoft 365? – 19:03
E-series packages versus smaller SKUs with addon licenses – 25:34
What is the F-Series of Licenses in Microsoft 365 for? – 30:30
What Microsoft 365 License is right for my organization? – 34:13
What resources are available to help deal with Microsoft 365 licensing? – 39:24
Episode quotes
Why the heck are things so difficult in M365 licensing?
Now that we've made the lawyers happy, we can get into the topic of today's discussion
You almost need to have a PHD to be able to understand Microsoft 365 licensing these days
There certainly is a skilling issue when it comes to some of these more expansive SKUs
We could sit here for an hour and talk about all the different security features that come along
The technology is one thing, but you really need to have the processes and the people in place to leverage the technology that you have licensed
The days of Microsoft 365 just being hosted exchange is no longer a reality
Frequently asked questions about Microsoft 365 licensing
Do all Microsoft 365 users in my organization need to have the same license type?
No, you can mix and match licenses based on the needs of the different user-types within your organization
When should I use Microsoft 365 Business vs when should I use Microsoft 365 Enterprise?
The general rule of thumb is if you're more than 300 users, go with an enterprise SKU. That said, if you're less than 300 users and you require advanced security features or any other non-business feature that is present in E3 or E5, then you can license the needed users with E3 or E5 as needed.
What is a Frontline worker in Microsoft 365?
These are generally the workers on the "Frontline" such as nurses, manufacturing staff, teachers and others that may need occasional access to M365 services, but not as frequently as your usual information worker.
What Microsoft 365 licensing should I choose?
The answer here is the age-old IT answer of "it depends". In short, you need to evaluate your needs and budget alongside the offerings of the different license type. On top of that, you need to also have plans in place to skill up admins and users on how to fully leverage the features that you're planning on licensing your organization for.
Resources for Microsoft 365 licensing
Have a question? Want to feedback? Get in touch!
Listen to The SysAdmin DOJO Podcast on your favorite platform. Let us know what you think of it (or how we can improve) by rating or leaving a review!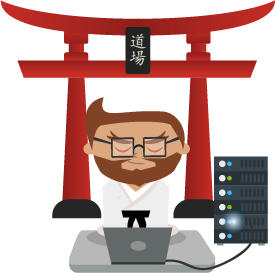 Not a DOJO Member yet?
Join thousands of other IT pros and receive a weekly roundup email with the latest content & updates!