What Does it Mean to Be Cloud-Native?
We talk with IT Consultant Paul Schnackenburg about the concept of cloud-native architecture, who it's for, and ultimately… is it better? We also spent a bit of time talking about common stumbling blocks to becoming cloud-native, and how to navigate those challenges.
So first off, many of you may be wondering, what does it mean to be cloud-native? Simply put, being cloud-native means you've eliminated nearly all of your on-prem IT footprint with the exception of what you need to connect to the cloud. There is a separate definition for developers that we discuss in the episode, but for our use it's not applicable to this discussion. The developer version of the definition merely refers to whether an application is making use of modern cloud technologies or not.
The next question that always comes up is whether or not cloud-native is better.  And the answer is the famous IT Pro answer of "it depends". It's clear that cloud-native deployments generate FAR fewer support tickets for any given IT organization. It also has the added benefit of nearly removing the infrastructure procurement and installation process. Those two things alone though aren't the entire story. Organizations also need to think about compliance regulations. For example, some regulatory bodies require that certain data be maintained on-prem, and in these situations a cloud-native deployment would not be viable.
If you're interested in some deeper info on this subject, be sure to check out the episode as we discuss all these questions in greater detail.
We hope you enjoy!
In this episode on being Cloud-Native:
What does it mean to be Cloud-Native? – 1:23
How is on-prem AD seen as a roadblock to becoming Cloud-Native? – 4:51
Where does Group Policy fit into the Cloud-Native discussion? – 18:55
How do Cloud-Native businesses handle storage? – 26:04
Is being Cloud-Native better? – 33:39
Episode Quotes
Cloud-Native is the Holy Grail of account management for service providers
If you're a start-up in the last couple of years, you're probably cloud-native from day 1
Proceed with caution when trying to get rid of established on-prem Active Directory
Everyone is too afraid to touch those old NT Domain Controllers
Smaller businesses are more agile, they don't have as much technical debt
OneDrive for Business is really like your traditional home drive
Azure Files is like distributed file system, but it's actually good
The cloud is great until you can't get to it
Frequently Asked Questions about Cloud-Native Architecture:
What does it mean to be Cloud-Native?
This means one of two things. The most common definition is the elimination of most on-prem IT infrastructure in favor of cloud services for a given organization. You can also talk about the term "Cloud-Native" in a developer sense in that a given application may be engineered to the cloud-native to leverage modern cloud technologies.
What are common stumbling blocks to becoming Cloud-Native?
Common stumbling blocks include the migration of identity services like AD on-prem to the cloud, endpoint management via group policy switching to Endpoint Manager and InTune in the cloud, as well as file storage services and access to said files once they've been migrated. Paul and I talked about each of these points at length in this episode.
What is Azure AD Connect?
Azure AD Connect is a service that runs on-prem that simply syncs on-prem AD user accounts into Azure Active Directory.
What is the cloud equivalent to Group Policy?
Microsoft Endpoint Manager and InTune are the two services that you can use in the cloud to provide Group Policy-like services from the cloud. For office configuration settings, you can use the controls located at config.office.com.
What are my options for file storage in a Cloud-Native deployment?
There are several options here. You can use services in M365 such as OneDrive for Business and SharePoint. Another more traditional option would be something like Azure Files, or by hosting a VM in Azure IaaS that is hosting a traditional file share.
Resources for Cloud-Native Architecture:
 Have a question? Want to feedback? Get in touch!
Listen to The SysAdmin DOJO Podcast on your favorite platform. Let us know what you think of it (or how we can improve) by rating or leaving a review!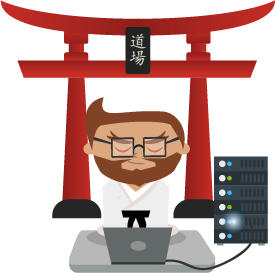 Not a DOJO Member yet?
Join thousands of other IT pros and receive a weekly roundup email with the latest content & updates!