Windows Server Certification is Back! | The SysAdmin DOJO Podcast
Andy Syrewicze and guest co-host Mike Bender talk about Microsoft's new Windows Server Hybrid Administrator certification. This certification combines on-prem Windows Server technologies with key cloud technologies to help system administrators become well-rounded when it comes to hybrid cloud. This announcement in Sept 2021 came as something of a pleasant surprise to the community and quickly entered its beta period. It is expected by end of Feb 2022, rank-and-file IT pros in the community will be able to start working on this certification!
Wondering if this certification is for you? We cover that question throughout the episode. On top of that we discuss the exam from both the standpoint of an on-prem administrator as well as from the standpoint of an administrator that has only worked with cloud technologies in their career! Windows Server certification is back, and Andy and Mike are excited to share their thoughts in this episode.
In this episode
Hybrid Cloud is a Destination – 4:30
Windows Server Hybrid Administrator Associate Certification – 6:30
Exam Objectives Discussion – 7:50
Mike's Recommendations and Tips on Exam Objectives – 16:56
How this certification helps you get started with cloud technologies – 25:32
Certification Exam Availability – 29:11
Why is this certification important for system admins? – 32:28
Episode quotes
Windows Server is Back Baby!
Windows Server is really the bridge for most organizations to connect into the cloud
Hybrid is a Destination
Looking through the exam objectives for this is clear that Windows Server is a HUGE part of this certification.
What's new in Windows Server 2022 Certificate Services? Puzzled Look from Andy and Mike
I Run Internet Explorer on my DC, that's how I browse the web on a day-to-day basis! (joking of course!)
How many organizations are close to turning off their domain controllers?
At this point, Cloud is just a part of your career.
Windows Server Certification Resources
Have a question? Want to feedback? Send us a Tweet!

Listen to The SysAdmin DOJO Podcast on your favorite platform. Let us know what you think of it (or how we can improve) by rating or leaving a review!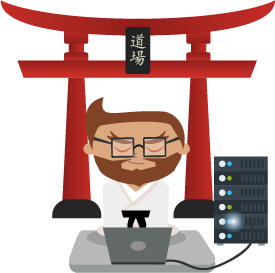 Not a DOJO Member yet?
Join thousands of other IT pros and receive a weekly roundup email with the latest content & updates!