Hybrid Cloud Management via Azure Arc with Thomas Maurer | The SysAdmin DOJO Podcast
We talk Hybrid Cloud Management via Azure Arc with Thomas Maurer from the Azure Advocacy team at Microsoft! This episode features a lot of discussion around Microsoft's hybrid cloud strategy, planning, and management with Azure Arc. Azure Arc brings together management of different clouds into the same UI. You can even setup your on-prem Azure Stack HCI deployments as "Custom Locations" inside of Arc so they appear as sites within the Azure control plane.
This management story is becoming critically important. Many IT Pros see Hybrid Cloud as a destination and not a temporary state. The need for these kinds of management tools is only going to grow. With that said, Andy and Thomas spend a good chunk of the episode talking about Hybrid cloud deployments, technologies, and where Azure Arc fits into it all!
We hope you enjoy!
In this episode on Hybrid Cloud Management via Azure Arc
What is Azure Cloud Advocate? – 2:12
The Focus on Hybrid Cloud at Microsoft – 10:40
Examples of Hybrid Cloud Deployments – 12:50
What are the different options for Hybrid Cloud in the Microsoft Stack? – 16:14
How does Azure Arc Fit into Microsoft's Hybrid Cloud Story? – 24:51
What Azure Stack option fits best where? – 32:34
For someone new to Microsoft Hybrid technologies, what are some resources to get started? – 36:26
Episode quotes
It's always interesting trying to explain what a "Cloud Advocate is"
If it plugs into the wall, IT supports it right?
We want you to be able to use Azure in a way that can make your on-premises environment better
Hybrid is really going to be an End State for a lot of customers
This is the magical world I've been trying to find for the last 10 years
There is too much great technology to play with
Wait, I can have Windows Server running in AWS, but then manage it through Azure Arc?
Resources for Azure Stack HCI and Azure Arc for hybrid cloud management
Have a question? Want to feedback? Get in touch!

Listen to The SysAdmin DOJO Podcast on your favorite platform. Let us know what you think of it (or how we can improve) by rating or leaving a review!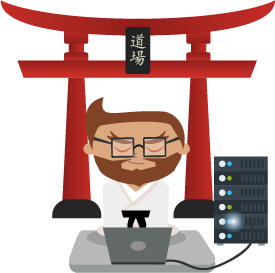 Not a DOJO Member yet?
Join thousands of other IT pros and receive a weekly roundup email with the latest content & updates!