For an introduction check out the article What is Hyper-V Replica and how does Replication Work. It explains what the benefits are of using it in a production environment as a disaster recovery technology.
Hyper-V Replica Requirements
To take advantage of the Hyper-V Replica, which is included as part of the Hyper-V server role, the following pre-requisites must be met:
A Windows Server 2012 computer with Hyper-V Role enabled/installed.
The hardware that supports the Hyper-V Role.
Sufficient storage on both the Primary and Replica servers to host the files used by virtualized workloads.
Network connectivity between the locations hosting the Primary and Replica servers
Properly configured firewall rules to permit replication between the Primary and Replica sites
For data to be transferred in encrypted formatted over the network, you are required to use HTTS which requires an X.509v3 certificate which supports mutual authentication.
Hyper-V Replica Facts
Hyper-V Replica works on a module named "Change Tracking". This is a function, in a programming language or a routine which is implemented to look for any write operations on the Virtual Machine files.
There are at least two Hyper-V Servers involved when configuring Hyper-V Replica feature.  One server acts as Primary Server and other acts as a Replica Server as shown in the below screenshot: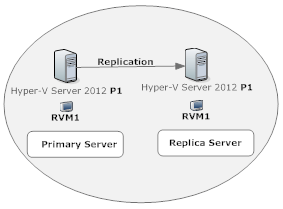 Hyper-V Replica requires Primary and Replica server to be running on Windows Server 2012.
Workgroup or Domain Models
There is no need to have Active Directory domain Services configured for Hyper-V Replica to work. Hyper-V Replica can be implemented in both Workgroup and Domain security models. For Workgroup security model, authentication must be configured using a certificate.
Disaster Recovery Solution
Many people confuse with Hyper-V Replica feature as to see how it is beneficial in achieving the high availability of Virtual Machines running on the Hyper-V. Hyper-V Replica is not a failover solution. It is a disaster recovery solution meaning it does not provide automatic failover capability which is provided by the Microsoft Failover Clustering.
Hyper-V Replica is designed in such a way that it makes the scenario work irrespective of where the virtual machine VHD file(s) resides (VHD files can be hosted on Direct Attached Storage (DAS), a SAN LUN, an SMB share on a File Server, or a Cluster Shared Volume (CSV). Hyper-V Replica can be configured to transfer Virtual Machines across Hyper-V Hosts.
Replication Interval provided by the Hyper-V Replica feature is 5 minutes and interval cannot be changed. There are several reasons for imposing this limitation but explaining those in this article is out of scope.
HTTP or HTTPs Replication
The HTTP or HTTPS authentications are provided by the Network Module implemented in the Hypervisor.
Hyper-V Replica can be configured for different networks also. It allows you to configure Hyper-V Replica for Replica Server running in the different network subnet.
PowerShell is just robust as Unix shell today. Microsoft offers one-liner PowerShell commands to configure Hyper-V Replica quickly without spending too much of time in GUI.
A firewall exception is mandatory for Hyper-V Replica. Please note default port 80 for HTTP and 443 for HTTPS are already enabled in the Windows Firewall. The firewall rules just need to be enabled.
Hyper-V Replica uses Volume Shadow Copy Service (VSS) on servers to take a point-in time snapshots of the Virtual Machines. You can configure Snapshots to be taken when you enable Replication for a Virtual Machine.
By default No Virtual Machines configured to replicate
By default, Virtual Machines are not configured to replicate. You must configure Virtual Machines to be replicated on the Primary Server which are replicated over the network to Replica Server located on the destination site.
Please stay tuned for Part 3 of this article series, in which we'll cover how to enable and configure Hyper-V Replica.
In Part IV, we're going to learn about Hyper-V Replica Vs Hyper-V Virtual Machine Backup and why Hyper-V Replica should not be considered a replacement for Virtual Machine backup products!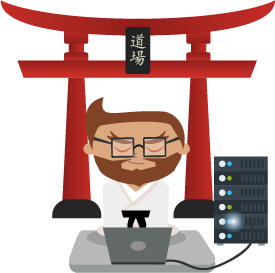 Not a DOJO Member yet?
Join thousands of other IT pros and receive a weekly roundup email with the latest content & updates!