Master Hyper-V and Windows Server with our eBooks
6 Common Hyper-V Configuration Mistakes to Avoid
Authors: Dave & Cristal Kawula
What you'll learn from this eBook:
How to avoid common deployment mistakes
What the best practices are for NUMA that won't affect performance
Proper use of Anti-Virus with Hyper-V
… and more!
Like Our Hyper-V eBooks ?
Get notified by email when we announce the next one!
Interested in Hyper-V webinars?
Attend our next live session or view an on-demand webinar here:
All Altaro Hyper-V and Windows Server eBooks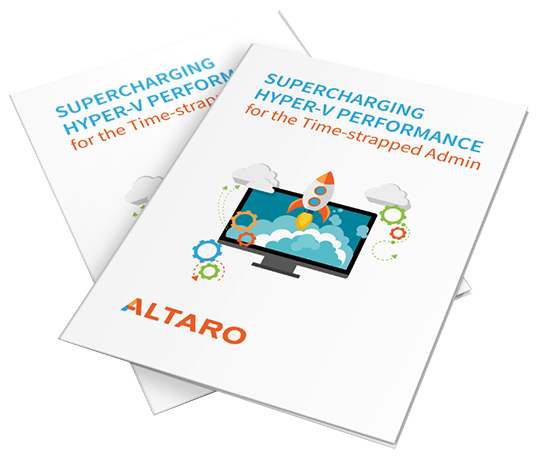 Supercharging Hyper-V Performance for the time-strapped admin
Author: Paul Schnackenburg
Maintaining a healthy infrastructure doesn't need to be complex and time consuming. Rather than spending a lot of time and money on expensive upgrades, there are several things you can do to improve what you're already running! Paul shows you the best performance optimization factors to work on in this eBook!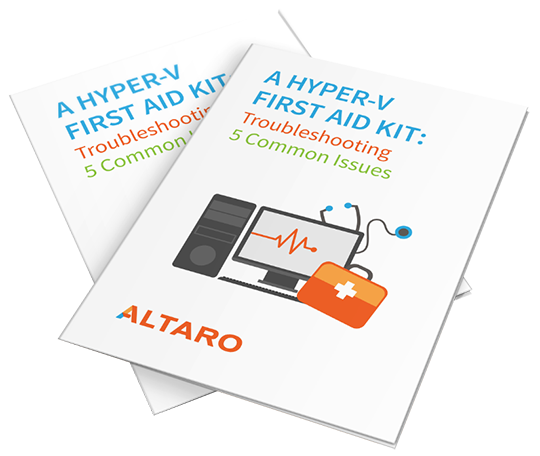 A Hyper-V First Aid Kit: Troubleshooting 5 Common Issues
It doesn't matter how well setup you are, and how much time/effort you put into creating a stable, healthy Hyper-V environment; Something's going to go wrong at some point. In this eBook, Brien's collected a bunch of common issues you may encounter in Hyper-V and their solutions, served on a silver platter!
5 Easy Ways to Save Time on Hyper-V Management Tasks using PowerShell
Looking to automate part of your Hyper-V environment but not sure where to start with PowerShell? Jeff makes it easy and provides sample scripts to get started right away.
10 Essential Best Practices for Virtual Server Backups
by Brien M. Posey
Brien Posey outlines some of the fundamental best practices to consider when building your strategy for virtual server backups.
10 Mistakes That Can Undermine Your VM Data Recovery Efforts
by Brien M. Posey
Prevent the most common mistakes made when planning and executing your disaster recovery strategy with this handy whitepaper.