The service industry is nothing if not a learning industry. That is doubly so when you add IT into the mix. The IT Industry changes so rapidly, that when you start providing IT services to end customers, eventually you'll have a negative response to a customer issue. We're all human, mistakes will be made, and it's not something to dwell on or get upset about. The most successful service providers out there will take these negative experiences and learn from them, and you can too!
Common breakdowns include:
Lack of communication
Poor issue hand-offs
Missing alerts
Lack of leadership involvement in the issue
Prolonged issue without resolution or workaround
There are certainly more than this. These are simply some of the most common. Most really bad customer experiences will be a result of more than one of these issues at a time, and it can often be difficult to identify that any of these are occurring while the issue is ongoing.
Apart from the common breakdowns I listed above there are 4 essential lessons that all MSPs simply must learn to overcome these common sources of customer incidents. So what exactly are these lessons I hear you ask? Well, if you really must know, you'll have to watch our recorded webinar session on the subject to find out 😉
Watch the Webinar
Again, this is something that you'll want to learn from to not only make your customer happy but to make yourself and your business better. If you need a little inspiration in introspection, we filmed a special MSP focused webinar specifically on this topic! We landed Trivalent Group Chief Operating Officer John Hey to join us for the day to speak about how the Trivalent Group has made significant improvements to their customer experience over the years by learning and improving following bad customer incidents.
John discusses issues such as common communication issues, response breakdowns, and more! You're not alone when comes to self-improvement. Watch the webinar video to learn about how an established MSP weathered the storm and came out better and stronger on the other side! Enjoy the show!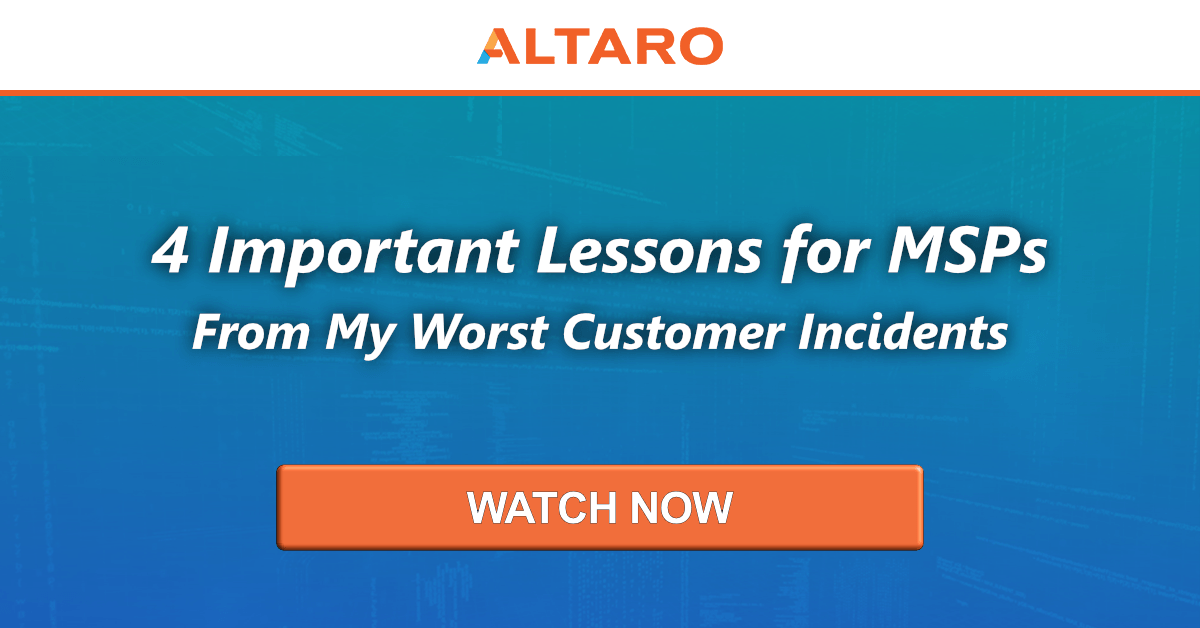 In addition to the thought-provoking presentation from John, the session was also followed by an equally insightful Q&A session whereby MSP attendees asked questions drawing on their own professional experiences. There were a couple of tough situations thrown at John and it's definitely worth checking that out!
Altaro VM Backup for MSPs
Did you know Altaro produces its own award-winning VM Backup software specifically for MSPs? Altaro VM Backup for MSPs is a monthly subscription program which allows you to manage your customers' virtual backups through an online console at the most accessible price in the industry. You pay per VM per month and have full access to all features of Altaro VM Backup across all your clients. The package has been designed in close collaboration with leading MSPs from both Europe and the US to provide an elegant way of managing the backup needs MSPs encounter on a daily basis. Since Altaro provide a solution suitable for both Hyper-V and VMware environments and at the most accessible price in the industry, our backup solutions are an obvious choice for managed service providers who want to offer quality to their customers at affordable prices.