Microsoft recently released what it called the "Creators Update" for Windows 10. This massive update came with many new features added to Windows 10, which included a few new features for Hyper-V enthusiasts. Most of them are so-called "quality of life" features to both Devs and IT pros.
Here's an overview of what's new in Windows 10 for Hyper-V users.
1. Checkpoint and Save for Nested Hyper-V
While this is definitely not a huge deal for production environments, for work or home lab environments running nested Hyper-V (like me) this is an awesome update.
For those that aren't familiar with the term, nested Hyper-V is when one or more Hyper-V VMs are running on a Hyper-V node. This set up allows you to perform tests on a Hyper-V cluster without having to pay for the extra cost of hardware. Running nested Hyper-V still has some caveats, like not being compatible with AMD CPUs (Ryzen AMD fanboy here!). However, the update has finally squashed an issue with taking snapshots in nested Hyper-V.
Now we can take snapshots and saved states of our Hyper-V VMs running on Hyper-V! This is pretty nifty as I can now have multiple Hyper-V configurations in my lab and easily swap between the different snapshots. Microsoft stated they are continuing to work out the kinks with nested Hyper-v setups, this is a good step in the right direction.
2. Dynamic Resize for Enhanced Session Mode VMS
I've used my fair share of both ESXi and Hyper-V throughout the years and I have to say, in my opinion, Hyper-V definitely has a smoother console of the two. But now, with the Creators Update, Microsoft has reassured this statement. With VMs that are using Hyper-V Enhanced Session Mode, you can now resize the VM console and the screen image will "dynamically" adjust with it!
Check out the image below from Microsoft's website. It's pretty sleek!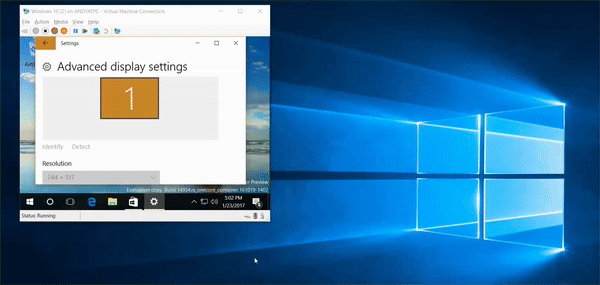 3. Multiple NAT Networks and IP Pinning
This feature helps to alleviate some of the challenges developers have been experiencing with running Windows Containers. One of those challenges has been running multiple NAT networks on a single host. With this new update, you can now use containers, emulators, etc with multiple NAT networks on the same host. You'll also be able to create and test applications from the container host as well as get access to the container by specifying the IP address of the host and port number.
This is an important update and a good push in the right direction. The more developers start developing apps for containers, the sooner the current IT genre can transition to a "server-less" environment. As of late, the word "containers" has become labeled a "buzz word" and everyone has their own opinions on whether it will become a standard in the future.
Either way, the developers that are designing applications to be run on docker/ windows containers are also creating the building blocks for how IT Pros will be managing and designing our IT infrastructure in the future with micro-services. The easier Microsoft can make it for developers to design and test on container infrastructure the better.
4. Improved Memory Management (for Developers)
Initially, Windows App developers were getting low memory alerts when running device emulators inside Visual Studio. Now with this new update, they can get accurate memory metrics and no longer get these false positive alerts. Just like the previously described feature, this is another improvement for developers.
Other Quality of Life Features
Some of the other features that were released where quality of life fixes like VM Quick Create, which allows you to create a VM with only a few clicks. Additionally there is the new feature called Zoom for VM Connect that allows one to configure a zoom level within the VM remote console.
As you can see, the Creators Update had quite a few quality of life enhancements to Hyper-V for both VMs and containers. It certainly indicates the next-gen features that Microsoft is focusing on and pushing to perfection for the next round of infrastructure innovation and will be exciting to watch in the future.
If you're interested in more information about these features, you can find the official Microsoft article about them HERE.
What are your thoughts?
Do you have a new favorite Client Hyper-V feature from this list? Is there anything you would've liked to see in terms of improvements that weren't added?
Leave a comment below and let us know what you think!