Use the following checklist when installing or verifying the installation of a Hyper-V host
Configure physical switch(es) to match your Hyper-V host's networking design
Rack or place system and connect all cables
If present, configure the out-of-band management tool on the physical system, such as IP addresses and management accounts.
Configure physical storage RAID
Set the host name
Set the time zone
If using a version of Windows/Hyper-V Server prior to 2019, disable SMB 1
Check our complete guide to Hyper-V networking if you need help on the networking components in the following list items
Create adapter team(s)
Disable VMQ on all physical and logical adapters on gigabit hardware that will host a virtual switch
Create an external virtual switch
Configure the host's management adapter:

If you will use a virtual network adapter for the host's management traffic, create it
Set IP address, mask, and gateway
Set DNS server address(es)
Configure optional networking components, such as NetBIOS over TCP/IP

Patch to current
Join the domain. Perform any additional Active Directory steps, such as moving the account to a special OU
Enable PowerShell Remoting
If you will use iSCSI storage:

Configure the relevant network adapter(s)
Enable the iSCSI initiator
Connect to iSCSI target(s)

If you will use SMB storage (also applies for using remote tools to connect ISOs to VMs):

Enable delegation
If using dedicated adapters:

Assign IP and netmask to storage adapters
Disable DNS registration for storage adapters

If you will use Fibre Channel storage:

Install the necessary software
Configure Fibre Channel hardware adapter(s)
Connect to Fibre Channel target(s)

Format any volumes as needed
Configure Hyper-V Host defaults

Default VM location
Default storage location
Migration policies
NUMA spanning

If the host will belong to a cluster:

Create additional virtual network adapters, if using converged networking
Assign IP and netmask to cluster and Live Migration adapters
Disable DNS registration for cluster and Live Migration adapters
Run the Cluster Validation Wizard
Create/join the cluster
Verify/configure quorum
Verify/configure clustered storage

If you will use Hyper-V Replica:

Assign a valid certificate from a trusted PKI authority
Configure Replica

Install and configure backup
Note: not all steps will apply to every situation
You can also automate most of these steps using deployment tools, group policy, Desired State Configuration, and your own custom scripts.
Think I've missed anything out? Let me know in the comments below!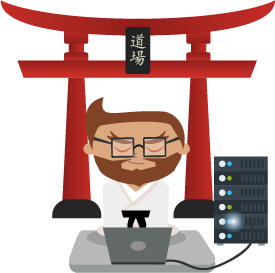 Not a DOJO Member yet?
Join thousands of other IT pros and receive a weekly roundup email with the latest content & updates!