Data Backup: Why, How, Where? | The SysAdmin DOJO Podcast
Host Andy Syrewicze and guest host Eric Siron talk about The Backup Bible, of which he is the author. For those that are unaware, The Backup Bible is an all-encompassing, vendor-agnostic guide to all things backup and disaster recovery (DR). The eBook has a little something for everyone. Whether you're a white belt, just getting started with backup and DR, or a black belt looking to brush up on this crucial topic area, this eBook won't disappoint.
We cover Eric's main motivations behind authoring this eBook, why he feels not enough care is given to backup strategies, and more. We even get into the discussion of why backup and DR is more than just an IT department concern and how you can work with the key stakeholders within your organization to make backup and recovery the high priority it should be.
In This Episode
What is The Backup Bible? – 1:17
Why is it that Many IT Pros Don't Take Backup/Recovery Seriously? – 2:01
Who is the Backup Bible for and What Does it Give Readers? – 5:00
Why Backup/DR is REALLY a people issue – 6:48
How do you Convince the C-Suite of the Value of Backup/DR – 11:00
What additional resources are available in The Backup Bible? – 17:58
Episode Quotes
"Do NOT set it and forget it."
"Treat your backups like your mother, check in on her often."
"If it plugs into the wall, it's IT's responsibility, right?
"How come you didn't know to back this up for 35 years? So, what if we've only been in business for eight."
"I've found that people don't like to leave things blank on forms… "
"I once won a fistfight with a zebra label printer…. I'm not gonna brag…"
Backup and Disaster Recovery Resources
Have a question? Want to feedback? Send us a Tweet!
Listen to The SysAdmin DOJO Podcast on your favorite platform. Let us know what you think of it (or how we can improve) by rating or leaving a review!
Don't miss an episode. Subscribe for podcast notifications, and more, on the DOJO.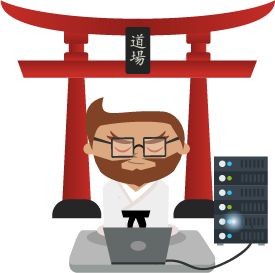 Not a DOJO Member yet?
Join thousands of other IT pros and receive a weekly roundup email with the latest content & updates!