In our previous post, we discussed some of the tools that VMware includes in the vRealize Suite such as vRealize Operations Manager, one of the most popular ones, also commonly referred to as vROPs. We briefly discussed some of the benefits in that post, but I wanted to deep dive into this particular tool just a bit more as I think a lot of businesses can benefit from it.
One of the most common complaints about the tool is that it can be expensive and that if it's pulling information from vCenter, why not just use vCenter to manage and monitor your environment? In this article, I'm going to give you 5 core reasons why you would want to use this tool, and why you can't do the same thing with vCenter.
What is vRealize Operations Manager?
To answer the question of what is vRealize Operations Manager is simple, it takes some of vCenter's functions and makes them better. It's designed to provide you, the admin with more actionable information at your fingertips and even automate some of the actions. vRealize Operations Manager comes as a virtual appliance that you deploy in your environment in standalone or HA mode. You can find this in our short vRealize Operations Manager installation guide for Horizon.
There are many useful applications for vRealize Operations Manager as it is a complete and complex product. Note that we are only skimming the surface of what is possible in this blog and you can find other exciting features in our top 10 vRops features blog.
vROPs Alerts
Frequent alerts or alert storms happen when tools flood administrators with non-pertinent information and ironically this is always right in the middle of a major issue. Your phone just keeps going off, even though you're aware of the issue! This extends the time it takes to correct issues, resulting in longer periods of downtime.
vRealize Operations Manager includes a Smart Alerts feature that identifies the root cause of an issue, alerts administrators to that issue while filtering out extraneous notifications, and makes a recommendation for remediation. The result is a faster time to problem remediation.
One of the great benefits is it gives you a tip on what it might just be. Eliminating some of the troubleshooting!
It is very much a proactive tool, whereas vCenter is more retroactive. You actually have to know what you want to monitor for vCenter alerts to give you what you want.
You can see in the image to the left, that it tells you the issue and then explains what you can do to fix it. In this particular example, it's possible that the DRS automation level is set too conservatively and will need to be changed, or maybe you're running the cluster in manual or partially automated mode and fully automated could help relieve some of those contention issues. So it helps get you in the right direction! vCenter by itself doesn't have the ability to make some of these observations and make educated suggestions based on the information at hand.
Policy-Based Reporting and More!
First a Definition (From the official documentation) of what a Policy in vRealize Operations Manager is:
A policy is a set of rules that you define for vRealize Operations Manager to use to analyze and display information about the objects in your environment. You can create, modify, and administer policies to determine how vRealize Operations Manager displays data in dashboards, views, and reports.
After the initial installation, a default policy is created in vRealize Operations Manager, containing settings that most organizations would find useful. This policy is initially linked to all the objects that are monitored. However, you can create additional policies and link them to vCenter objects that are grouped together in a custom group. (NOTE: You first have to create these custom groups). Like vCenter, vRealize uses a tree-like structure and supports inheritance.
(We'll be discussing how to manage vRealize policies in a future post!)
In selecting and managing these policies there are a few controls (Shown in the image) throughout the interface worth mentioning
The Base Policy shows you a policy preview and contains information on what metrics & properties, alarm definitions, symptom definitions, and custom profiles are inherited from the base policy. It also shows you what configurations are defined in the current policy.
Under Analysis Settings, you are given the option to configure the way objects are analyzed in your environment. By default, you get the settings that are inherited from the base settings. You can change them if you need to.
Workload Automation contains settings that are used in the Workload Balance dashboard. You are able to optimize the load across your clusters. (More on this in a future post as well!)
Collect Metrics and Properties contain properties and metrics that are collected by vRealize. Metrics are dynamic values that change every 5 minutes, while properties contain static information.
If you want to set certain alerts on symptoms, you can do that under the Alert / Symptom Definitions section.
Custom Profiles let you add custom profiles to a policy. A custom profile is used for capacity planning purposes in vRealize. For example, you can define a specific standard size for a virtual machine or ESXi host.
Applying Policy to Groups will let you link the policy to one or more custom groups that you've defined.
Rightsizing recommendations
As the size of a vSphere environment grows in terms of virtual machines, it becomes more and more complicated to ensure the optimized size of VMs. A virtual machine that required 8 vCPUs a couple of years ago may only need 2 after a big project is finished. On the other side, projects ramping up slowly may require a lot more resources than what it was originally deployed with.
vRealize Operations Manager analyzes your environment with all the virtual machines running in it and will make recommendations regarding undersized and oversized virtual machines. You can then choose to take action to reclaim or increase resources either manually or through automatic resize actions.
Note that you also get recommendations on the storage used in your environment, something many companies struggle with, and realize that they've been wasting Terabytes of space in VMs that no one decommissioned or else.
Compliance Enforcement
This is a really neat feature and one of my favorites. The Configuration and Compliance category caters to the administrators who are responsible to manage configuration drifts within a virtual infrastructure. Configuration drift is the concept that over time settings and configs in a datacenter slowly change over time via work and modifications from different admins. Ideally, in a virtual environment, settings and configs stay as uniform as possible. In short, vRealize Operations Manager Compliance Enforcement helps with this.
Since most of the issues in a virtual infrastructure are a result of inconsistent configurations, dashboards in this category highlight the inconsistencies at various levels such as Virtual Machines, Hosts, Clusters, and Virtual Networks.
You can view a list of configuration improvements that helps you to avoid problems that are caused by misconfiguration.
Additionally, from a security perspective, vRealize Operations Manager can now analyze vSphere hosts and virtual machines to ensure they are as hardened as possible.
Issues requiring mitigation are reported to administrators. It will inform you if you're violating any kind of configuration or security best practice, and best of all can inform you on how to improve the issue.
Workload optimization
If you worked with vCenter in your job, you probably heard of or maybe used and configured vSphere DRS and SDRS (storage/ Distributed Resources Scheduler). This is obviously the feature that ensures the demand for your virtual machines is satisfied. Even though it looks like DRS is a load balancing feature, it is not. Its purpose is to ensure that the virtual machines have enough resources to run, nothing else. If one host is running at 70% with 80 VMs while another is doing 5% with all VMs working fine, DRS has no reason to move VMs around.
vRealize Operations Manager has a feature called vROPS Workload Optimization which offers load balancing features. It works with DRS to find the best VM placement in the environment according to a threshold you set.
"vRealize Operations Manager offers proper load balancing capabilities for workloads across hosts in clusters"
To properly protect your VMware environment, use Altaro VM Backup to securely backup and replicate your virtual machines. We work hard perpetually to give our customers confidence in their VMware backup strategy.
To keep up to date with the latest VMware best practices, become a member of the VMware DOJO now (it's free).
Wrap Up
As you can see, vRealize Operations Manager does more than just monitor vCenter. It gives you more control and insight into your vSphere environment. Also worth mentioning is it can also monitor other tools you might have like Horizon. It's well worth having it run in your environment! The longer it is able to analyze your environment, the better and smarter it becomes. Having the ability to see the issue and a recommendation to go along with the said issue is invaluable. Most SMBs are always looking to streamline alerts and notifications and this solution will fill that void.
What about you? Have you been looking at vRealize Operations Manager? What looks enticing? What types of vRealize Operations Manager content would you like to see more of? Let us know in the comments section below!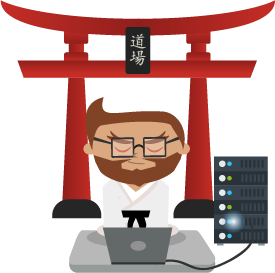 Not a DOJO Member yet?
Join thousands of other IT pros and receive a weekly roundup email with the latest content & updates!
Frequently Asked Questions
What is vRealize operations manager?
vRealize Operations Manager comes as a virtual appliance that is to be deployed in your management cluster if you have one. It can be installed in a number of ways, tailored to your environment's size and complexity. vRealize Operations Manager collects data from the environment and processes it to make recommendations, identify issues, trigger policy-based automation as well as a whole lot of analytical goodness to improve operations' efficiency.
What is vRealize used for?
vRealize is the commercial of the VMware portfolio that includes solutions such as vRealize Operations Manager, vRealize Log Insight, vRealize Automation, vRealize Orchestrator, and many others. Those products apply to different use cases and expand the reach of the vSphere platform.
Is vRealize operations manager free?
vRPOS is a paid product that comes with a 60-day free evaluation period.
What is vROps for Horizon?