Hello everyone! October is now well behind us and that means it's time for another edition of our Hot VMware Topics series! As a reminder, this series showcases useful links, interesting reads, and great how-tos from the world of VMware from throughout the previous month.
Many of this month's topics come from all the announcements centered around vSphere 6.5 at VMworld Barcelona. So we've got lots of official release type of information in this month's segment. Let's get started!
This was the big announcement at VMworld Barcelona. vSphere 6.5 was announced with a fairly long list of enhancements that were welcome news to many attendees and VMware die-hards. This release included the HTML 5 vSphere web client, enhancements to VUM, vCenter high availability, VMDK encryption and much more. If you want to full list of the good stuff. Check out the link!
So while entry one was more of a holistic overview of all of vSphere, this link is all about the new enhancements for vCenter itself. There are a number of new enhancements such as improved appliance management, backup and restore of the vCenter configuration, and a number of tools for making migrations from the traditional Windows Server based vCenter easier. With that said if you're still running vCenter in this manner, you'll want to take a good look at the VCSA, as it is quite a mature product now, and with the new migration tools, moving has never been easier. So, if you've been thinking about it, check out the article as it has a lot of relevant info.
Like link number 2, this one builds off of link number 1 as well, only this one has much more to do with security than anything else. The big story here is the ability to encrypt VMDKs. As we all know with VMDKs being files, they are able to be easily moved from one location to the next. This can be done not only by the admin of the network, but by a malicious attacker as well. The encryption piece here addresses that concern and will be a huge help protecting workloads at corporate locations and remote/branch offices alike.
Author: Chuck Hollis
I found this to be a very unique perspective on the announcement regarding the VMware/AWS partnership. I've found that there are quite a few opinions on both sides and I felt that this article provided an interesting perspective. Chuck does a good job of explaining the situation, and what he believes is likely to happen. Certainly an interesting read for a lunch time.
Author: Duncan Epping
This is another article talking about some of the new enhancements in vSphere 6.5, but this time regarding VSAN and from venerable VSAN author Duncan Epping. This article provides some information on what Storage IO Control is, What it does, and How to configure it and it's prerequisites.
Author: Florian Grehl 
Linux is starting to garner quite  a bit of mainstream support. This can be seen a multiple facets of Microsoft and in other sections of the IT industry. This is for a number of reasons, many of which have ties into the devops and open computing scene that I won't get into here, but the idea is the ability to conduct management tasks from anywhere, including Linux OSs. With this in mind it is now possible to use PowerCLI from linux due to the fact that Microsoft now allows PowerShell to run within certain Linux distros. Florian walks us through the process in this post.
Wrap-Up
Well that wraps up things for this month's segment of  Hot VMware Topics! Hopefully you enjoy sifting through all the information I've linked and I hope it provides value in your day to day operations. Until next month, thanks for reading, and if there is a link or useful page missing from this list that you feel should be included, be sure to let us know in the comments section below!
Thanks again!
[the_ad id="4738″][the_ad id="4796″]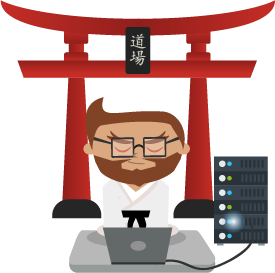 Not a DOJO Member yet?
Join thousands of other IT pros and receive a weekly roundup email with the latest content & updates!