Update 2:
We have compiled all the questions and answers from the webinar, and published a post together with the webinar recording from the day of the webinar. Check it out here: Nano Server Webinar Q&A Follow-up
_________________________________
Update 1:
We ran a very successful webinar with Andrew Mason, and as usual we will be uploading the recording of the webinar and the Q&A as soon as we have them. Why not register to our Hyper-V Blog to be notified when they are up?
_________________________________
We've got a great opportunity for all system administrators who want to learn more about Microsoft's Nano Server Technology! If you have any questions about it, harbor any concerns about management and administration, or you just want the run down on what Nano server is, be sure to join our webinar with Andrew Mason, Principal Program Manager working on the Nano Server team! Register for free.
Andrew will be joining our own MVP Andy Syrewicze in answering all your Nano Server related questions, so be sure to bring any questions along, as this will be a Q & A focused webinar. Following a brief introduction on Nano Servers (15-20 minutes), the rest of the time will be dedicated to answering your questions – don't miss this great opportunity!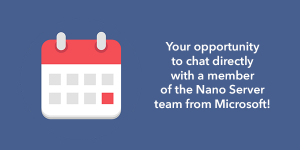 Date: Thursday, March 16, 2017
Time: For US registrants: 11am PT / 2pm ET. For RoW registrants: 4pm CET.


This is a great opportunity to ask any questions about Nano Server in WS2016. Most of the webinar will be dedicated to the AMA – we suggest you prepare any questions you have beforehand – leave them as comments below or send an e-mail on sam@altaro.com so that we can prepare the questions in advance!
If you have burning questions about Microsoft's new Nano Server Technology, this is the chance to get the straight answers you're looking for.