The Power in PowerShell | The SysAdmin DOJO Podcast
Welcome to the VERY FIRST episode of the DOJO Podcast, the podcast where we teach you how to become the IT black belt within your organization. The goal of this podcast is to bring you industry thought leaders, interesting topics, and actionable insights into the world of IT and how to become a kick-ass system administrator!
This episode features host Andy Syrewicze and guest host Michael Bender, an author/evangelist with Pluralsight and former Microsoft Cloud Advocate, to talk about how junior admins can get started with PowerShell, with resources, suggestions, and why it's such an important skill to master if you want to progress in the IT industry.
In this Episode
Introduction
What is PowerShell? – 4:06
What can PowerShell do for System Administrators – 8:40
Why Should Administrators Care About PowerShell? – 11:43
Resources to Get Started – 22:30
Episode Quotes
Mike <In Superhero Voice>: "PowerShell is a Modern Command Shell that Includes the Best Features of Other Popular Shells!!!."
Fictional Get-Automobile Cmdlet: "I Got a 1979 Corvette that got a whalefin…"
"Take the output from Get-Automobile….."
"Knowing these automation things is going to give you a leg-up on other people out there!"
"We have no idea what this career is going to look like in 10 years"
"An administrator had a management problem, so they made a Perl script, then they had 2 management problems"
PowerShell Resources
Have a question? Want to feedback? Send us a Tweet!
Listen to The SysAdmin DOJO Podcast on your favorite platform. Let us know what you think of it (or how we can improve) by rating or leaving a review!
Don't miss an episode. Subscribe for podcast notifications, and more, on the DOJO.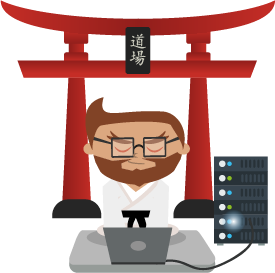 Not a DOJO Member yet?
Join thousands of other IT pros and receive a weekly roundup email with the latest content & updates!